Amazon Smile
is a simple and automatic way for you to support the Brooklyn Food Pantry every time you shop, at no cost to you. When you shop at
smile.amazon.com
, you'll find the exact same low prices, vast selection and convenient shopping experience as Amazon.com, with the added bonus that Amazon will donate a portion of the purchase price to the Brooklyn Food Pantry.

Our Mission


The mission of the Brooklyn Food Pantry is to provide assistance
to community members who are in need of emergency food.
Providing Food Assistance to Families and Individuals
The Brooklyn Food Pantry is a 501(c)3 agency serving area families in need of assistance. ANYONE who is in need is welcome to come to this pantry on a weekly basis. We are open on Tuesdays and Thursdays from 10:00 to 2:00.
About Us
This food pantry, started in the early 1970s, is run by community volunteers. Our volunteers are dedicated people who cheerfully distribute boxes of food, hygiene and cleaning products to our clients. Our volunteers spend endless hours ensuring that boxes of food are always available to those in need.
Thanks to area businesses, churches, clubs and individuals we are able to continue our mission. We are truly grateful to the Irish Hills community that "keeps us going" year after year.
Food, hygiene and cleaning products can be dropped off during our normal business hours (Tuesdays and Thursdays 10:00 to 2:00). We are currently located at 119 South Main St, Brooklyn, MI (below the Hoyt & Flynn office). Monetary donations can be dropped off or sent to Brooklyn Food Pantry, PO Box 122, Brooklyn, MI 49230.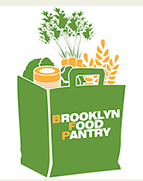 For more information please call (734) 476-9177 or email us.


We look forward to hearing from you!