Working Together to Make a Difference

Opportunities for Volunteers


Work at the Pantry
Initiate Fundraisers at Churches, Schools, etc.
Tell Others About the Pantry
Plan Ways to Help our Community
Monetary Donations

Can you help us?
Sign Up to Become a Volunteer
Using your gifts and talents to serve our community.
VOLUNTEERS
Volunteers assist clients who come to the pantry by helping pack their grocery bags and loading these into their vehicles. Volunteers also sort donated food items and stock shelves in the pantry. Occasionally assistance is needed to pick up donated items when large drives are held.
The Brooklyn Food Pantry has an average of two to four people working at any given time. We are always looking for people who would be willing to help a few hours during the week. If anyone is interested in becoming a volunteer, please stop in to speak to our director.
For your convenience, we also have a signup form (shown below) for anyone that would like to volunteer. Please mark which days you are available and fill out the additional information. Our director or one of our board members will get back with you as soon as possible.
DONATIONS
We are open every Tuesday and Thursday from 10:00 am - 2:00 pm. Food, hygiene and cleaning products can be dropped off during our normal business hours. Monetary donations can be dropped off at 119 South Main St, Brooklyn, or mailed to: Brooklyn Food Pantry, PO Box 122, Brooklyn, MI 49230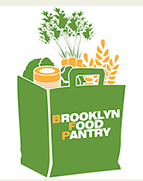 For more information please call (734) 476-9177 or email us.


We look forward to hearing from you!